Transformative Power of Gratitude
September, 2019
I'm sitting in a hotel suite overlooking Brussels and I feel incredibly inspired to write about the role of gratitude in my life…
You might recall Abundance Academy program created in 2012 and the big message in it that you do NOT attract what you want but what you ARE…
Those powerful words were very clear to me then and I immensely felt what they meant, but yet I still struggled to truly BE that which I really, really wanted.
And then truly came the gratitude…
All spiritual teachers I've studied call on us to be grateful and tell us that then the kingdom of heaven we shall enter – just to sum it all up:):)
Gratitude appears to be such an easy feeling to feel, yet most of us, myself included had difficulty in truly embodying it.
Be that which you want to attract. "You don't attract what you want, but what you ARE" – OK, how?
Gratitude was my answer…
When I finally aligned with that feeling and I became that grateful state, regardless of what was happening in my life – the life that I truly wanted started to "manifest"!
When I tried to intellectualise the gratitude, the feeling eluded me, but when I generated it throughout my being by practicing Ho'oponopono over many months it happened and I can't even tell you the exact moment.
When you are grateful for everything that happens, gradually the state becomes you…
Of course when something "negative" happens your ego doesn't like, it is difficult. This is when you could say: "thank you for the lessons I am not seeing yet, but I am open and grateful for them already, thank you…" And the more you do that, the more you practice, the more you become it…
I know it is easier said than done when some major poop falls on your lap, but it can be done. It's a shift of perception.
Marianne Williamson said that the miracle is a shift of perception from fear to love…
She encouraged us to say: "let thy will be done". I was fearful about that, I was afraid to just trust and be grateful for WHATEVER happens in my life, I was scared that some bad things could happen.
Then, I decided to truly trust and I kept affirming – "Let thy will be done, let miracles follow miracles and wonders follow wonders. Let thy will be done, I love you, I trust you, I know only good can come to me from everywhere and everyone…"
And gradually day after day I felt more and more gratitude and I became it. I felt it literally through fear that melted into love, into gratitude, into trust…
When you see my posts on FB, on my personal FB, you might think I'm endlessly happy and I never have a "bad" day.
Well, I chose to think and feel grateful and eventually became soooo grateful that there aren't any bad days anymore. There are only lessons and wins…
I know how it might sound when you are going through troubles. I went through real life changing challenges. There was near financial ruin, cancer diagnosis, broken hearts, betrayal, you name it. You can just tune into any of my former programs and find out…
My point is – when you dare to take that leap, trust & feel gratitude for ANYTHING, the transformative power of gratitude will work miracles in your life.
I am sitting in my suite in Brussels on the journey back home with my wonderful soul mate, husband & business partner Joakim, our beloved labrador Lider – at my feet right now:) and I am just thinking, feeling and counting my blessings.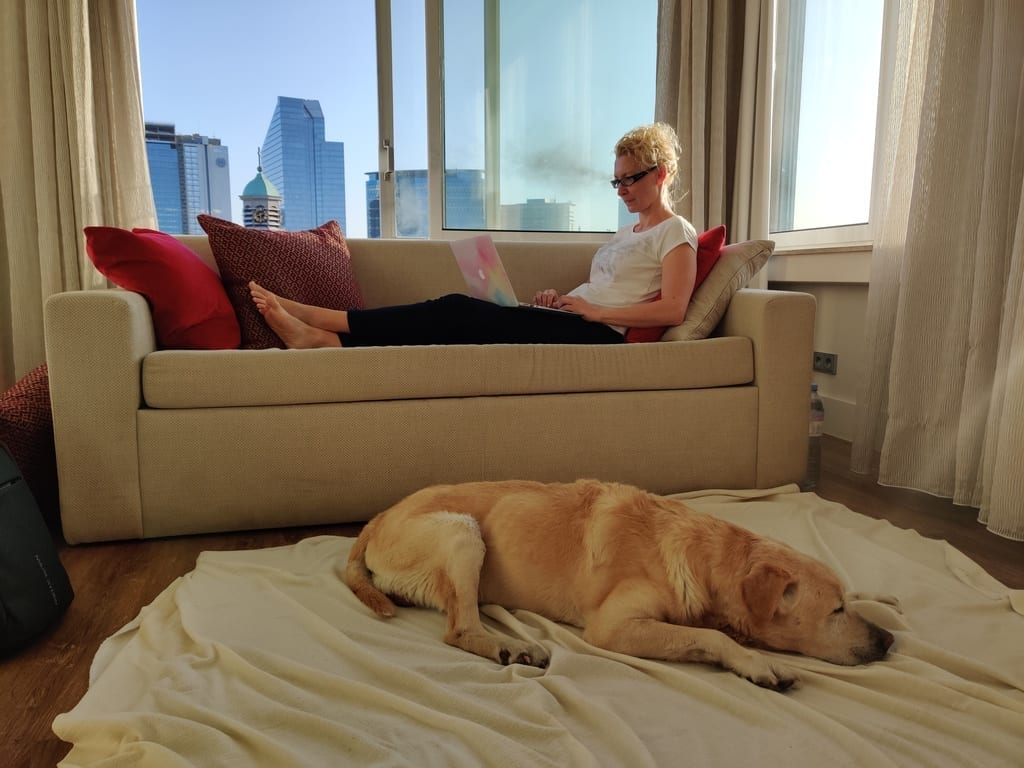 We have always wanted to create a life you don't need holiday from and here we are on the 5th week of our "working holiday".
I need to use that word in "" because how else to describe a life of your dreams?
When you work doing what you love, when you live and co-create the life of your dreams?
Probably only few of my readers will know the amount of challenges Joakim and I had gone through to create it, but let me just say that only when gratitude became my main state, my everyday experience turned into a miraculous one.
It is a realisation that you live the most amazing life that you dreamt of. I don't know what it might be for you, I know what it's been for me and this is to do, be, have whatever you always wanted and the knowing that each day brings more and more wonders…
My mom asked me if I was looking forward to my holidays before we left our home in Spain.
Actually, I am so content and pleased with my life, my work that I call my life a "working holiday", so…
I look forward to every day, I feel grateful everyday and I observe in wonder how the creation happens, how I am inspired to co-create it, how I am listening and acting upon my intuition – the divine tuition from within…
I want to be clear – I feel the pain in my body, I see the time passing by, there are numerous challenges in our business, but the shift has happened and all of it became miraculous and I am grateful for it…
Why would I be grateful when I have pain in my body? Why would I be grateful when I need to let go of a client? Why would I be grateful when there is a traffic jam etc, etc, etc???
Because I finally understood that to live the life of your dreams you need to trust life/God/Universe ( whatever name you use for the divine power that is a part of us and is greater than us). You need to trust and let go, you need to believe that all that is happening to you is happening FOR you. It is a gift from the divine to help you grow and evolve to be the best you can be.
To live a life of your dreams is not easy. It requires that commitment and trust, but once you shift to that grateful state, everything changes and the change is within…
The life might not immediately mirror that state, but it does and you will see it very soon!
When there is red light when you want green light hurrying to work, say: thank you, I'm being protected from something.
Someone you love is diagnosed with a disease, you might be, say: thank you for the lessons I am not seeing yet ( if you are not ready for it), they are coming and the clarity is round the corner – trust me…
I can't pay my bills, say: thank you for the money on the way to me now. The solution will come to you, if you let it…
When you shift like that, everything starts making sense and life becomes wonderful. It becomes a life you don't need a holiday from.
I'm about to pack my bags and get going. We are off to Paris, we will meet the COO of our business and some of our wonderful clients.
I'm truly grateful and excited to meet them since we haven't yet met in person and that again is a miracle in itself.
To create a laptop based business that we've always dreamt of, to attract wonderful people to work with, it is an amazing manifestation of my dreams and I am sooooo grateful!
Thank you, thank you, thank you!
If you'd like me to work with me to help you create your version of your best life, just reach out and connect with me.
Much love,
NataliaPH