Building the Lovetarian Movement
I am a Lovetarian.
The word came to me in a deep, meditative state and it instantly filled me with Unconditional Love…
Hello Beautiful, Spiritual Sister & Brother 
My name is Natalia Przybylska – Hansson, NataliaPH for short and I am a Lovetarian.
I'm sending love & light to you and I truly hope you are doing well in these interesting, turbulent times…
I'm one for always focusing on the opportunity and it is my hope that you will choose to do that as well.
As you might know in the 11th year of my awakening journey I've received a beautiful vision and insights of:
The Lovetarian Way…
For the longest time, I've known that my purpose was to help build a legacy of love and light on our wonderful Mother Earth, however up until recently I've been an expert in self sabotaging myself.
Rather afraid to be seen in a big way and truly spread my wings…
But about 3 years ago, I was deeply touched by the energy of the Goddess, aka the Divine Feminine and things had accelerated for me even further.
I've opened myself to that energy and truly focused on embracing much more heart based living.
Previously, I've been "trying" to think my way through feelings a lot and even though I had some amazing moments of enlightenment, I hadn't been able to truly let go and surrender, committing to doing the work daily…
By work, I mean – heart based living…
Having been brought up in a mentality of:
"How is the fight ( read: life ) going?"

"We must struggle and fight to achieve"

"We must compete against one another:, etc…"
It hasn't been that easy to switch.
Also being a feisty person by nature ( born as an Aries, in the year of a Fiery Dragon:)), it was that much more – shall we say – challenging to fully embrace a heart based existence.
So, over the years, as I've been awakening deeper and deeper, there was this constant struggle between my mind and my heart.
In 2009 I got the most beautiful, enlightening vision when I saw Angels showering me with Infinite abundance as I was levitating and seeing green, luscious fields, pyramids of gold that were never ending and I heard voices whispering:
"When you are in balance, we shower you with Infinite abundance"…
I depicted it in a little computer graphic then, have a look below…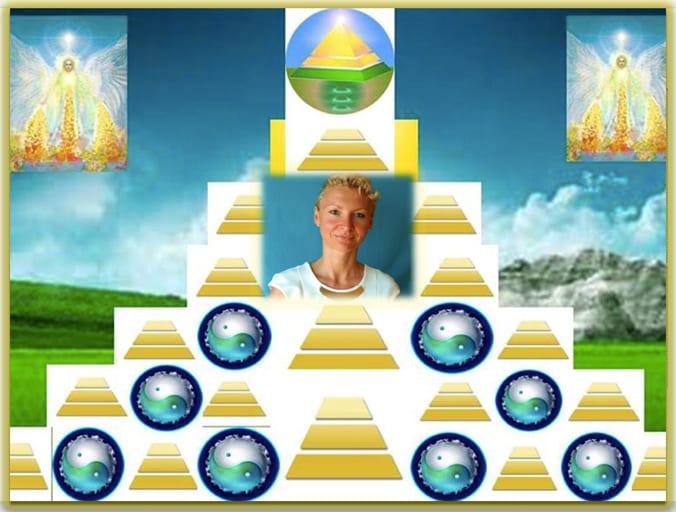 Originally I placed a human figure in the centre representing me, but around 2017 when this intense energy of the Goddess inspired me (actually now I call her – the Divine Mother), I put myself in the center of the picture.
And even though it was a symbolic gesture, it actually represented the huge shift that happened to me.
As I truly started to embody self love more and more and put myself in the center of my universe, I balanced my being by embracing more and more of the heart energies, life started to become more MagicKal and miraculous for me.
I also made this picture and hung the copy all over the house.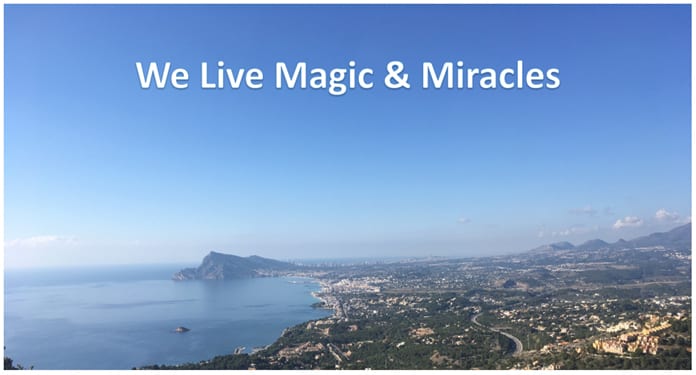 At the time I used the word: "Magic", but this year I started to use "MagicK" instead, as the transformation has become even more profound and deep for me…
I still use "magic" occasionally, but I am definitely much more inclined to use it with a "K".
It does feel much more powerful.
"Magic" represents more of a "pull bunny out of the hat" experience as opposed to the truly powerful MagicK of one's transformation…
I've been embodying the magicK and the miracle of UNCONDITIONAL SELF LOVE and my life has mirrored that abundantly.
When I put my picture in the center of that vision, I became IT even more, or maybe even a better way of saying it, would be…
I was very INSPIRED to put my picture in the middle as I felt that I was truly ready to stand in my power and take full responsibility for my transformation, loving myself as the Divine Mother loves us ALL – fully, totally and UNCONDITIONALLY…
Long gone are the days when I would think that my power lied in the factors outside of myself…
I have been becoming more and more powerful by taking 100% responsibility for my thoughts, feelings, words and actions…
And…when I turned 44, in 2020, in the 11th year of my transformation, I've received my word and the vision of:
"The Lovetarian Way" ( I describe the experience on my blog in more detail)
In short, I was one with the field of our Divine Mother Creatrix of All Life and ALL was love…
I was loved, I loved, I embodied love, I felt like I returned home and nothing has been the same since.
Here is a short clip from one of my teaching videos which will hopefully help you see what has happened to me:
Ever since then, my strong passion for guiding people to and through heart based living has been super charged and my vision has become very clear.
I've always felt, ever since I was a kid that I was to leave a legacy of love and light, now I had a very specific vision with a name attached to it…
And…on that note…
Since we do create with the power of LOVE, LIGHT & The WORD, when I got my word, the light and the love just multiplied even further and now I had a very specific "goal" to focus on.
And that is, my beautiful friend – building the Lovetarian Way Movement aka Empire of Love & Light, Heaven on Earth:)
Would you like to embrace Your MagicK and truly manifest Your Heaven on Earth together with me and other fellow Lovetarians?
I would love to work you with and help guide you and other heart minded and like minded people so that…
We can ALL stand in our SOVEREIGN power to live our most amazing MagicK, cooperating, shining our light and LIGHTING UP the WORLD.
Lifting the world UP from the darkness which seems to get slightly too comfy in some hearts of our Brothers and Sisters who kinda forgot that we all come from the Divine Mother and we are ALL One…
And, we are ALL to Love, Respect and Honor each other, Mother Earth and All her children…
I hold no grudges, I call them the "Darkies", we are all ONE energy of the Divine Mother and they just seem not to have awakened yet…
None of us has any clue what these beings had gone through, where they come from, how they were programmed, so I send them love and light as my heart fills with compassion for them…
They are after all, a part of Me, as You are a part of Me and as we ALL are a part of our Divine Mother Creatrix…
So, Stop hating them if you do, Stop feeding the field of Fear, that's what the Darkies want…
Why help them? No, no, my Beautiful Friend:)
Send love and light, and Lighten the path for the "Darkies", EMBODY the Lovetarian Way…Talk the talk and walk the walk:)
This is the hardest part really, to love them UNconditionally while you do your thing:)
Hey, in this day and age, we all know that the energy of LOVE and LIGHT has the ULTIMATE POWER to transform it ALL into LOVE, a beautiful Heaven on Earth…
We DO need to do the work though:)
Remember what John Lennon wrote:
"It matters not who you love, where you love,
why you love, when you love or how you love,
it matters only that you love"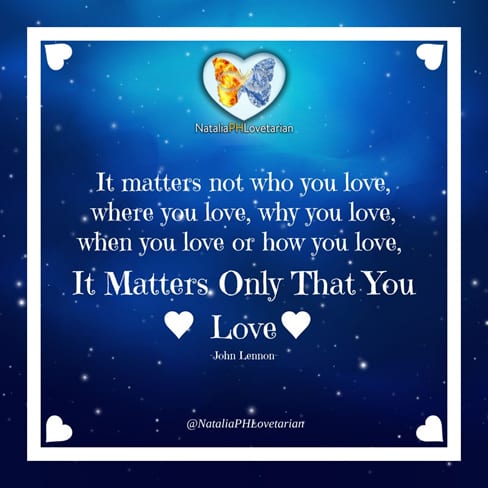 He felt it, as did Jesus, as did Ghandi, as did Buddha, as did Martin Luther King Jr., as did many, many, countless others…
And…the best part is, NOBODY needs to die or get shot anymore in the name of love, the chances of us getting killed for Embodying Love are slim to none….
So, Dare to Embody Love, Dare to Shine Your Light my Beautiful Friend:)
There need NOT to be hate, there need NOT to competition, there need NOT to be atrocities and horrible things we do to each other, Mother Earth and her animal children.
All of that is the thing of the past, the 3D mentality is really way overdue and we are way, way, way on our way to transcend it and step into 5D, the Golden Age of Miracles, Heaven on Earth…
PRONTO:)
So, I'm building THE LOVETARIAN WAY MOVEMENT, one beautiful soul at the time and there are gazillions of my Spiritual Brothers and Sisters who are already on their way of doing it so well in all corners of the world!:)
I AM so privileged and honored to be initiating with a lot of them in the Mystery School with the Sophia Code and I'm thrilled to be working with the Divine Feminine Ascended Masters of the Dragon Tribe & Kaia Ra.
What joy & thrill. Huge thanks to those and other beautiful souls who are Embodying Unconditional Self Love & Love for All all over the world:)
Breaking the matrix of the DARKIES from within:)The Lovetarian Way and the movement is my little contribution.
My big prayer is that it will grow and spread like wild fire of Love & Light and Enlighten our world from within more and more and more…
Ok, Beautiful!
Without further ado, if you resonate with all said here and with me:)
I want to invite you to join: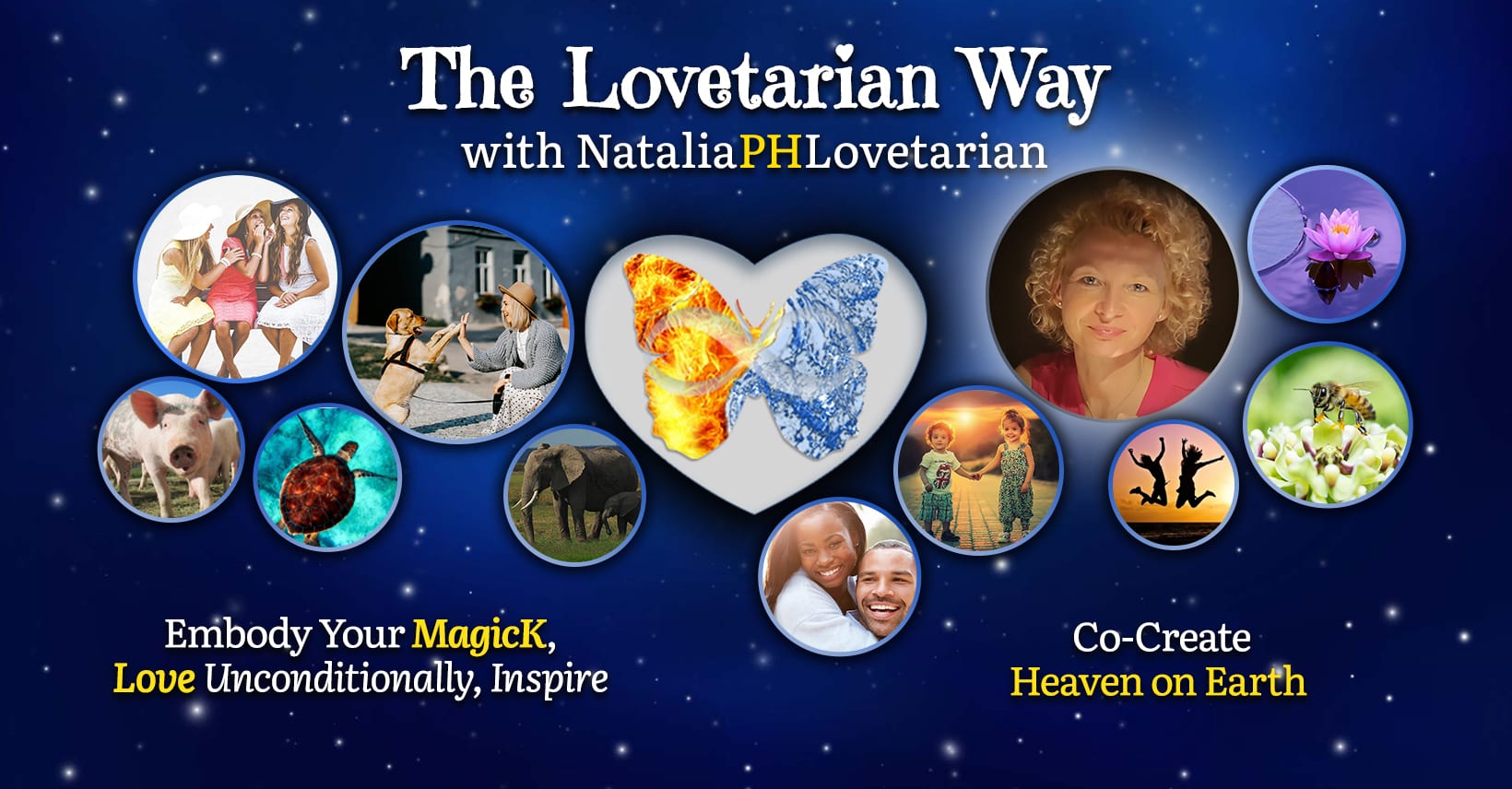 The Lovetarian Way FREE Facebook Group and we will work together to awaken to Our Divinity & Light up the world from within…
There are no leaders, no gurus, we are our own Leaders, Brothers & Sisters coming from the Unconditional Love of the Divine Mother and Father and if each of us takes 100% responsibility for our lives, stand in our Sovereign, Divinely given power…
Wow….Heaven on Earth is upon us:)
We will practise, we will work consciously on CHOOSING what we want to experience and co-create THE OPPOSITE of the poop and suffering that still lives on planet Earth…
Before I go, let me tell you one last thing…
I have been also inspired to create the 4 Pillars of the Lovetarian Way to help us deepen our work and embody Unconditional Love even further…
I've explained them broader in the videos I put in the UNITS of the FREE FB group but let me just tell you shortly what they are…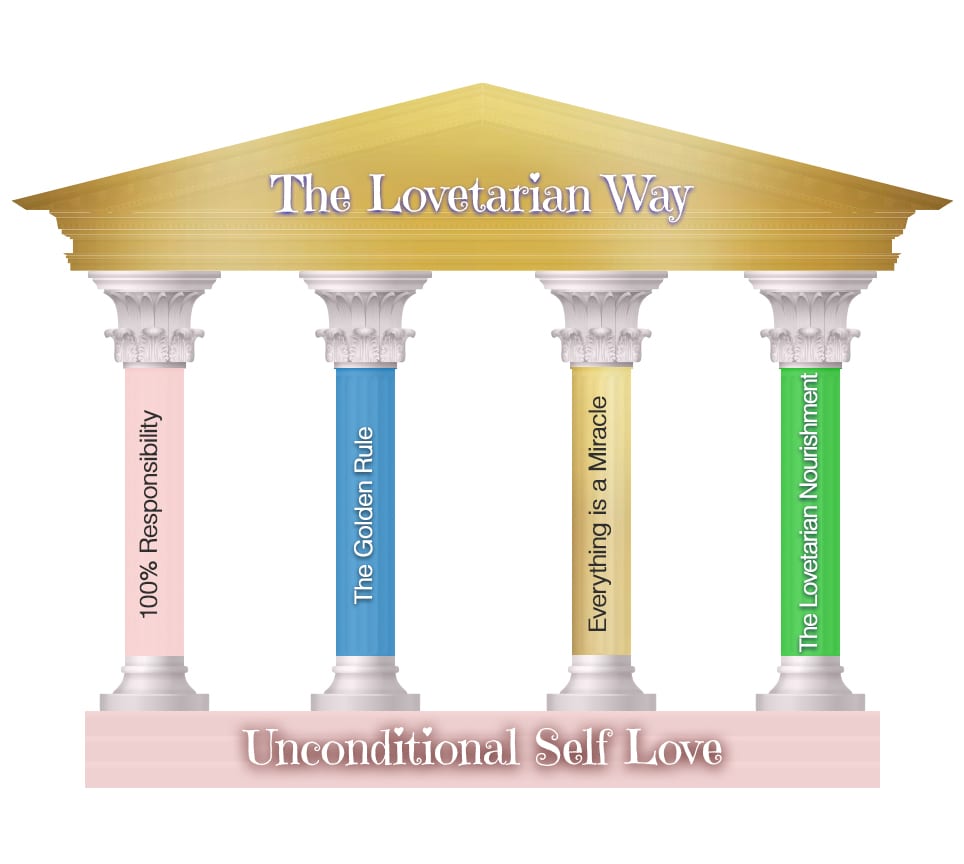 PILLAR 1 – Taking 100% Responsibility
We are all co-creators of our lives, and are fully responsible for our thoughts, feelings, words and actions.
We can CHOOSE to live & co-create heaven on Earth, or we can choose to co-create Hell on Earth.
It all comes down to our individual choices…
We will be PRACTISING in the group and will embody the practise in our everyday lives…
PILLAR 2 – The Golden Rule
"Do unto others as you would have them do unto you."
We are all One, beautiful energy of love and light and if we all do live by that rule, the violence, the darkness, atrocities, competition; they will all transcend into the light & love of the Lovetarian Way…
I've been practising myself for years and I see the evidence every day.
We will practise in the group and will of course embody the practise in our daily lives…
That's the point:)
PILLAR 3 – Everything is a Miracle
This connects directly to the Pillar 1 where we choose to take responsibility for our thoughts and we will CHOOSE to see everything as a gift, as a miracle.
We choose to align with the Energy of Love & Light and it will help us understand that LIFE happens FOR us, NOT against us.
ALL experiences offer a gift and are a miracle – ONLY IF we choose to see them this way.
Mr Einstein said it so well:
"There are only two ways to live your life. One is as though nothing is a miracle. The other is as though everything is a miracle."
I know what I have chosen and I am encouraging you to do the same.
We shall practise in the group and will embody it in our daily lives:)
PILLAR 4 – Whole Foods Plant Based
I have chosen to stop eating my animal Brothers and Sisters and it serves my health, my energies, my entire being beautifully.
It is your choice how you want to nourish your body.
I will build a strong case PRO eating plants when we chat in the group ( Please also watch the videos in the UNITS of the Free Group). I will show you how it can help you thrive in your health & life…
This is once again very much connected to PILLAR 1, each of us must take 100% responsibility for our Body Temple and see what makes it feel how…
I truly believe that stopping to eat animals is the only way where all Beings win – us, the animals and our beautiful Mother Earth.
For me the way I nourish my body, embodies compassion and love and I get the benefit of it every single day. It's as if Mother Earth and the animals reciprocate:)
We are however – given a free will to CHOOSE…
When I have been inspired to create this pillar it came straight from the center of my being, from my heart and well…Our beloved doggie Lider inspired it. And FYI, after 15 years with us he went to heaven in March 2020, it was so peaceful & and in perfect, divine timing…
Well, what can I tell you, in 2012, in October, I looked into my dog's eyes, and I just felt I didn't want to eat him and how was any little piggy, or cow, or a bird different?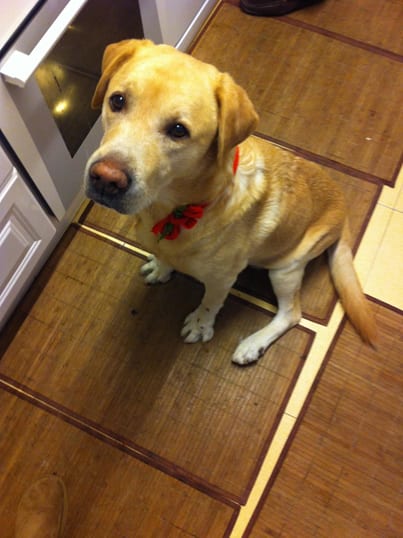 Let those pics speak, I rest my case…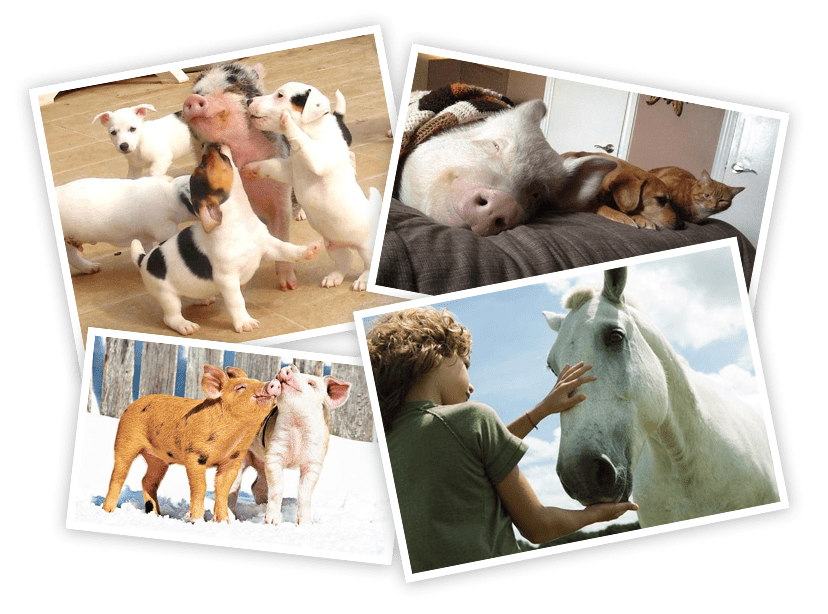 I am NOT guilting you into anything, NEVER. It is Your responsibility, it is Your choice…
Let your heart guide you…
It happened for me in 2012 and after that I've also built my knowledge on how to nourish my body best on a whole foods plant based nutrition.
I've taken a deeper look into what the "meat industry" does to our animal brothers and sisters and I just couldn't stomach it…
You can learn more about it, really educate yourself and see how you can truly embody unconditional self love by eating animals…
I don't know, I just DO NOT know.
I know what I feel…You need to follow your inner guidance…
I will never tell you what to do, all I can do is to guide you and help you make the most healthy & enlightened choices…
Ok, that's it on the 4 Pillars…
Please join the group and ask your friends to join.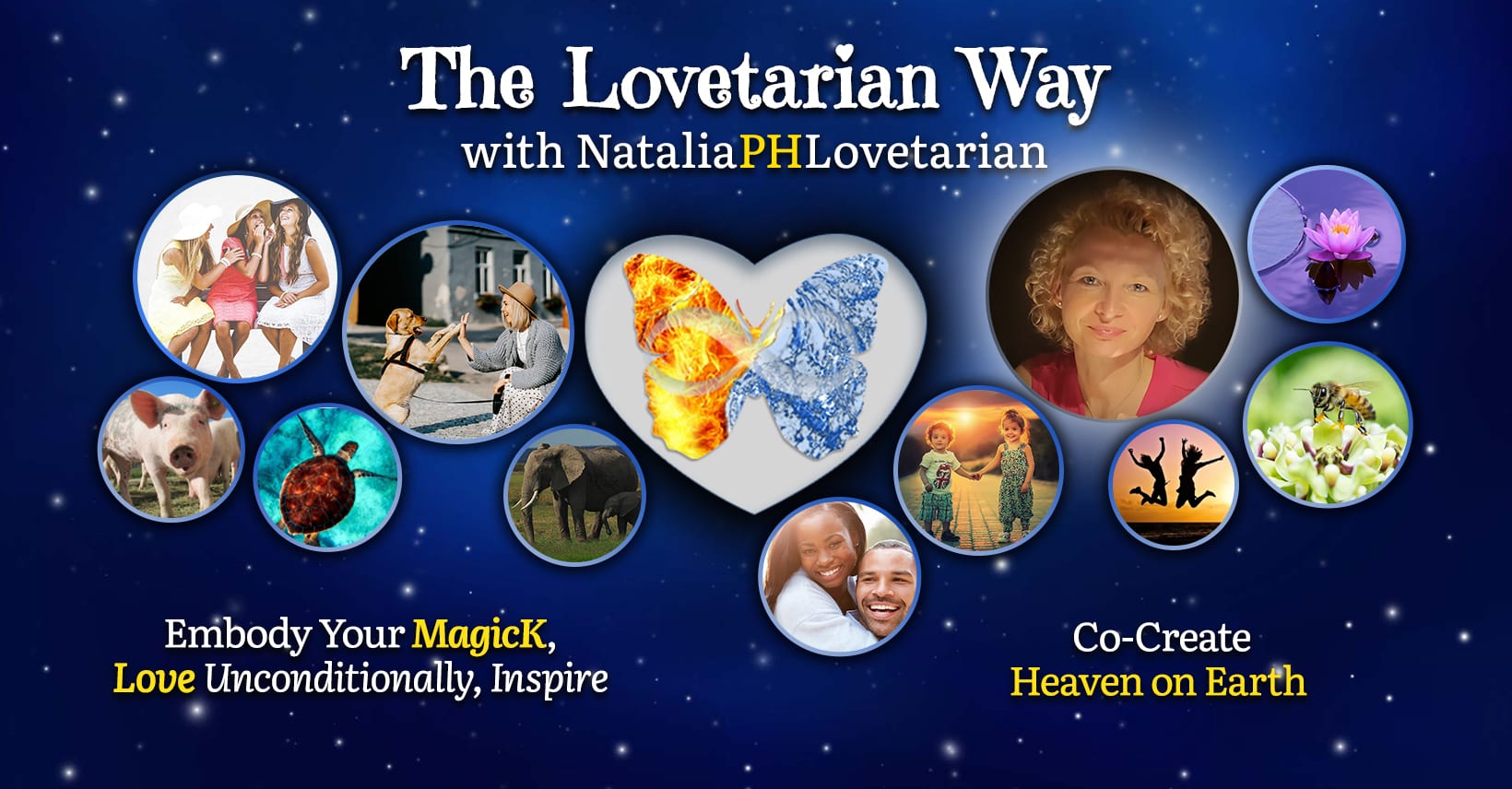 The Lovetarian Way
I made a lovely meditation for you as a welcome gift, fill out your name and email when you ask to join and I will email it to you swiftly.
It's called "Heaven on Earth" meditation.
It has such beautiful music composed by a dear friend of mine, Theo Newton, also known as Torben Thoger, a Danish composer, music producer and a filmmaker.
Ok, lovely Soul, I hope to see you in the group!
We will have tons of fun working together, releasing fears and anxieties, and shining more and more light into our beautiful world and beyond.
And so it is, Amen!
Namaste…