Base Veg Bouillon
Easy, delicious, nutritious vegetable bouillon
If you'd like a FREE access to the yummy, nutritious Plant Based Recipes I've created, please fill in your Name, Email and Create Your Password:
Email Address Password Remember me
Don't have an account yet?Sign up
Password Reset
Please enter your email address. You will receive a link to create a new password via email
Username or Email Address
Password Reset
The instructions to reset your password are sent to the email address you provided. If you did not receive the email, please check your spam folder as well
You are already logged in
Already have an account? Login
Name Email Password Confirm password
Easy, delicious, nutritious vegetable bouillon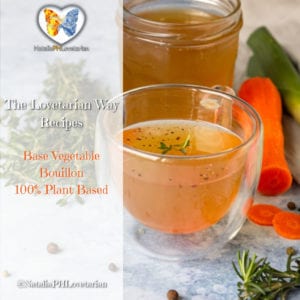 Base vegetable Bouillon
Ingredients
- 6

cloves

of garlic

- 2

onions

- 4

medium carrots

- 4

turnips

- 3

celery stalk

- 0.5

celeriac

- 3

leeks

- 4

bay leaves

- 1

tbsp

dry rosemary

- 1

tbsp

dry thyme

- 1

tsp

turmeric

- 0.5

tsp

cayenne

- 3

liters

of water

- 2

tbsp

himalayan salt

- 2

tbsp

virgin olive oil or 2 tbsp coconut oil (if you dont mind slight coconut aftertaste in a bouillon)
Instructions
Peel and chop all the vegetables, Boil the water in a big pot, the veg will add volume, so better get a bigger pot

Add all the vegetables and spices, pour over the water and bring it boil, lower the heat and let it simmer on medium heat for 1.5 hrs.

Taste and see if you need more salt, more spice.

I like to keep the vegetables for the veggie mousses I make during the week. Once cooled, they will keep in the fridge for a week.

Cool the bouillon and transfer to a jar, keep it in the fridge for a week and/or freeze.

You can freeze it in a bag or use silicone ice cube freezer form to keep them frozen in pieces and you can use as many as you need during the week.