About Me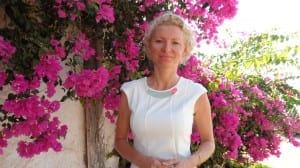 I am a life enthusiast who follows her passion and creates her best life and since living your passion feels magical I wanted to share the magic with you in hope of inspiring you to create your best life…
I'm a student of many teachers, have several degrees, finished many courses yet truly none of this matches up with life experience. Living life and overcoming challenges builds amazing experience and gives us wisdom.
I've had my share of ups and down, including over 20 years of eating disorder and self healing from it, near financial ruin, cancer diagnosis, you name it and through overcoming it all I've learnt a lot.
My life has been full of interesting twists and turns which allowed me to step on the path of personal & spiritual development, it's been a magical journey and things only get better and more miraculous.
I love to work with people, I work internationally on and offline. I have clients and partners in all corners of the world, anywhere where people share this "force for good" spirit.
My work is my passion and when one is fortunate to align with their soul's purpose, everything is an opportunity to grow.
I'm Polish, married to a Swedish guy – Joakim, we both feel like citizens of the world.
I have a dog, his name is Lider, the most amazing creature alive ( love embodied:)).
I live in a gorgeous part of the world, on the Costa Blanca, Spain, yet my mind and soul ( body occasionally) loves to travel all over the globe.
I have big goals and dreams and I encourage everyone to always "think big" and dream big dreams while delving into inspired actions to make them true.
I'm a total believer in Napoleon Hill's: "whatever your mind can CONCEIVE and BELIEVE, you can ACHIEVE".
Coaching and inspiring others has always been something natural to me and gave me a lot of joy.
My passion is to simply live my best life and inspire others to do the same.
I love how Marianne Williamson described our duty to inspire in her beautiful "A Return to Love":
"Our deepest fear is not that we are inadequate.
Our deepest fear is that we are powerful beyond measure.
It is our light, not our darkness that most frightens us.
We ask ourselves, Who am I to be brilliant, gorgeous, talented, and fabulous?
Actually, who are you not to be? You are a child of God.
Your playing small does not serve the world.
There is nothing enlightened about shrinking so that other people will not feel insecure around you.
We are all meant to shine, as children do.
We were born to make manifest the glory of God that is within us.
It is not just in some of us; it is in everyone and as we let our own light shine, we unconsciously give others permission to do the same.
As we are liberated from our own fear, our presence automatically liberates others…"
I would love to work with you, so if you feel so inspired, let's connect.
May love & light be with you.
Namaste
NataliaPH
Connect with me on Facebook or LinkedIn