Little Reflection after Easter…
Hi You!:)
I hope you had a great time during Easter and you took a moment to reflect on this holiday. I don't know if you are Catholic and what your belief system is, but regardless – the idea of resurrection, new beginning, rebirth must be familiar to you.
When we were preparing Mindset-Academy.com, we were thinking about all those who are facing challenges and are getting ready to make a shift in consciousness, step up and take charge of their lives, by simply understanding the nature of this universe.
The Algorithm of Creation we are mentioning over and over again in our free training video series shows you how to create happier, healthier and wealthier life, starting with your well being, because how you feel is everything, you state, your attitude is the only thing you really can control and change, and once you become the master of your thoughts and emotions, your life magically transforms.
I'd like to encourage you to view 4th video in our free training video series, you might find it interesting what you hear there, and you will see how little it really takes to change the direction of your life and just be happy, grateful and appreciative.
I want to share one of the most beautiful quotes about life, I have ever heard, it also made me look at things and my life from a different perspective.
Here it is, and remember visit us at www.Mindset-Academy.com
Even after all this time the sun never says to the earth, "you owe me." Look what happens with a love like that. It lights the whole sky. ~Hafiz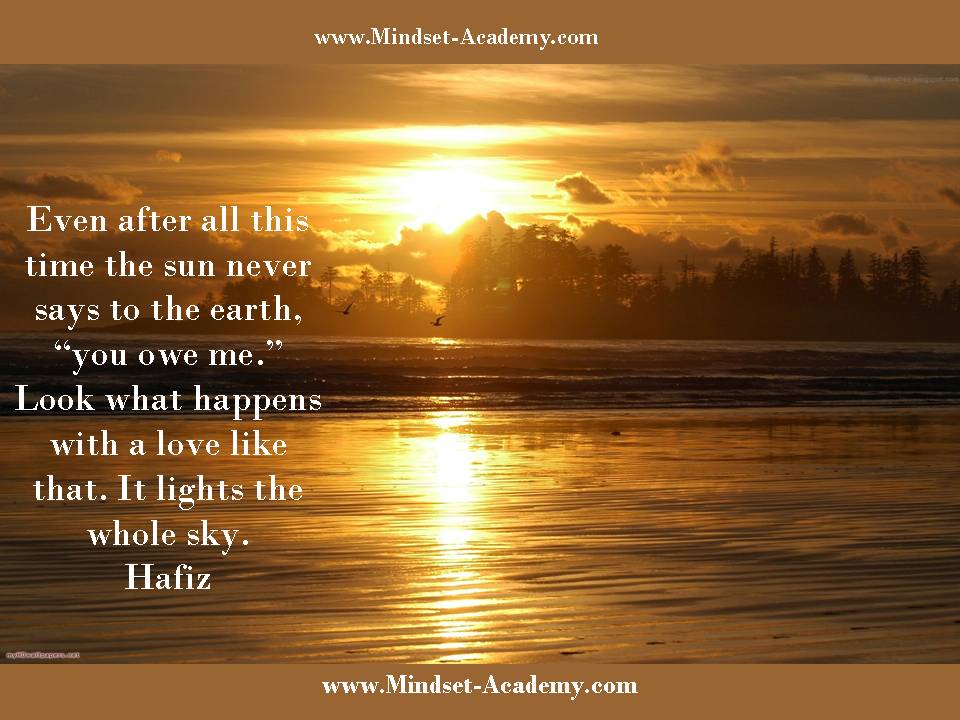 With Love & Light
by Natalia PH