If You Search For One Remedy For It All – Love Recommended"
Good Morning!:)
Today's post was inspired by this great interview with Anita Moorjani who after being diagnosed with late stage Hodgkin's lymphoma went through the most amazing transformation from Fear to Love.
I'd like to encourage you to watch this video, as it can aid you hugely in solving issues you might be facing. Anita's story gives a great perspective on what is important in life and how we should live fearlessly, because that is what we came here for.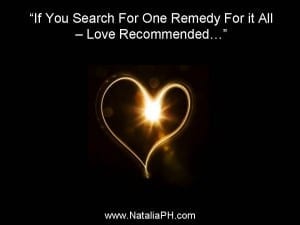 We are adventurous co-creators who forgot about our abilities, our inner power and got programmed by society to live in fear. The purpose of our life on this planet is the expansion of love, joy, happiness and we bought into this social hypnosis of victimhood and powerlessness.
Anita's near death experience is a beautiful, encouraging testament to unleashing our potential and breaking through from fear and all these low vibrating, enslaving emotions that are often injected into our lives by those who either do it purposely or those who don't know any better as they themselves live in this state.
She went through a beautiful journey of transformation from someone who feared everything and everyone to freedom  and the fullest life possible, having the priviliedge to touch the other side, she was given a choice to come back and share her experience with the world, and what an empowering story – you have got to see this.
I will only tell you this – no matter what is going on in your life, no matter how frustrated you may be, if you consciously choose love, appreciation, forgiveness and start feeling these feelings towards people and circumstances that peeve you it will melt away all the negativity from your life and you will start seeing life from a completely new perspective.
I have been doing that for a while now and believe me when I tell you it was not easy, if you knew me few years ago, huge heart yes, but one of those minds who kept on coming with negative scenarios, who wanted to always have the last word and generally Ego all over the place, I recall even being called a drama queen on several occasions:)
When you live like this, when you live from mind, it is tough, when I was back than told to choose love, let go, relax, I would just roll my eyes and I wouldn't have any of that, correction my Ego wouldn't have any of that, but…in my core I have always felt that I was born with a purpose to help people, to be of some sort of service. Imagine back in school I was told by teachers to go and study law, well, I did give it a try, but it didn't resonate with me. After that I led a very interesting life, successful on the surface, but felt empty. So, life put me through a series of tumultuous events and I had to look inward for solutions and you know what I found?
Yes:) No matter what happens in life, the answers can always be found in love, when you come to the state of peace, acceptance with what is, when you start sending out these good, loving vibes out there, universe responds and your life starts becoming fuller and fuller.
This was just a short digression to show you my take on it, but after you watch this interview I'm sure you will have many "Aha" moments and you will be able to apply what Anita says in your lives.
Shortly you will see your life coming to light, being more loving and challenges will look like a little dots of ink on a huge white sheet of paper, because that's what they are thanks to them you are able to write a beautiful story while you are here, just remember why you are here.
Don't let others tell you life is meant to be hard, life is meant to be an exhilarating, epic story and as any of those it has many chapters. May June be the month when you jump on this wave of change and empowered by the cosmic powers you will allow yourself spread your wings and LIVE TO THE FULLEST:)
As Zig Ziglar said "People often say that motivation doesn't last. Well, neither does bathing – that's why we recommend it daily" so should you ( and you will ) get inspired, motivated by this video or the post:) it may vaporized by the weeks end, that's why my recommendation for you is to feed yourself with positive "Brain Food" much more often, you can subscribe yourself to a free portion of such and receive it 2-3 times per week.
If you don't see a pop up box, go to nataliaph.com to subscribe:)
Ok, beautiful people, wishing You a beautiful day/night whenever this post will find you
With Love & Light