Are You Willing to Change?

Good Monday Everyone!
Are you feeling it? The change that is coming? The change within and the change without. It's been a while that i can sense something is going on and the world as we know it is changing, we can either go with the flow or resist it, but whatever you resist persists, so…..
There are different scenarios and I′m for one always looking at the bright side. Our consciousness is evolving whether we are comfortable with it or not, it is happening, the new world is coming and it seems to be inevitable.
I believe that we are the co−creators of our reality and that nothing has a meaning until we give it one. I was listening to different predictions for June 2012 and some are very optimistic, some are rather gloomy, so again I shift focus and concentrate on all good that is coming. I suggest you do the same, there is far too much negativity out there to add even more fuel to it.
I found this great video where Louise Hay reads from one of her books on willingness to change. Talking about change, this woman is a wonderful example of how when you let go, your life can unfold in the most amazing way. Some people I work with often ask if it′s not too late to make a turnaround….Never ever is it too late, Louise Hay had a tumultuous childhood, was raped, got no education, modeled, got married, got divorced, the couple spent 18 years together before husband left Louise for a younger woman, and when she started finding her path working with First Church of Religious Science she was diagnosed with cancer but all this time she felt that there was more to life, she started observing her thoughts and learnt how you can heal your life by changing the way you thought. This was the beginning of one of the most inspirational stories of people who changed our perception of reality and showed us how we can turn our lives around, the moment we choose to change our thought patterns and set a new course.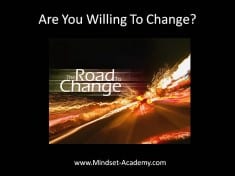 Listen to this video, get inspired and have no fear, know that "there is a power inside every human against which no earthly force is of the slightest consequence." Neville Goddard
Remember if you are looking for assistance in creating happier, healthier and wealthier lives visit: www.Mindset-Academy.com
Wishing You a beautiful day/night whenever this post will find you
With Love & Light
NataliaPH