Good Day to You!
How are you feeling?
Listen – I want to ask you a question – have you given much thought to your beliefs recently?
You know, I have come to realize that even though I have been working on myself for – yeah – few decades now:) there are still quite a few limiting beliefs that I subconsciously hold.
It became very evident to me with my parents recent visit. Oh, I don't think I've mentioned that I moved to sunny Spain – Joakim, Lider and I are living our abundance in beautiful Costa Blanca when the sun shines over 300 days per year and the view from my office is AMAZING, sea and hills, in fact here is the picture:) taken just as I write it.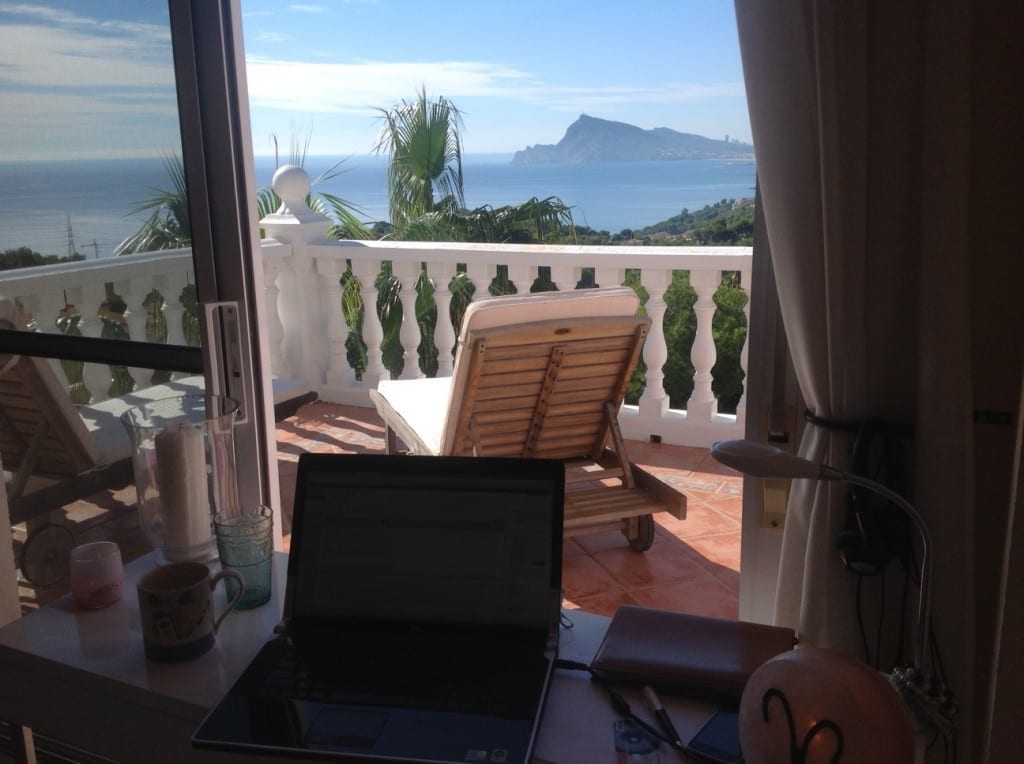 We moved here in September 2012 after we closed the chapter in Poland, as lovely as it was living there, I have always had a dream of being the citizen of the world and travelling the world having my laptop based business and after years of belief, perseverance, commitment and inspired action applying religiously algorithm of creation, we are now living our vision boards.
Spain is step one of many to come and I am open to the field of all possibilities!
I always repeat to you that you can do, be, have anything you desire nothing but your own will and motivation can stop you – take it from me – Miss Self Doubt – for a loooooooooooooong time – in fact I have described my growth and challenges in the book "My Journey from Frustration to Fulfillment – Abundance Algorithm", as I write it the manuscript is being reviewed and ready to be sent out there!
Ross Pittman, the founder of Conscious Life News helped me edit the book as I can write and write and write and then someone has to organize it – THANK YOU ROSS:) Love you!:)
I will keep you posted on when the book is available. Joakim, Ross and I, in cooperation with wonderful friends who are coaches, medium, authors, we are also preparing another project which we call Abundance-Academy.com, you might have noticed that I have recently changed my title from Life Coach to Abundance Coach.
I figured, since I got certified with flying colors at the University of Life and I am a living, breathing example of how to conquer one's demons and make dreams come into reality, it would be a very apt description of myself.
The course will be based on the book as in it I give you a 30 day formula to move from frustration to fulfillment.
Now, back to the limiting beliefs – so my parents came with a visit and it was as if I was seeing my life in a film format. When they spoke awareness kicked in that I still harbor deeply rooted beliefs which I adopted from them during my childhood.
My parents are wonderful, loving people, however they unconsciously programmed me into believing that life is a struggle, that one must fight to achieve and so I did for a long time, but only when I got beaten to the pulp at the University of Life, I took a long look at this METHOD.
I must tell you fighting sucks – what I mean is this – yes, fight – but not others, instead conquer your own shadows, never give up on your dreams, come to peace and balance with yourself and believe me when you loose hostility, when you raise to heart based consciousness, your environment responds back to you with the same energy you project.
When you love people, when you love life, you get abundance of love back.
I have been applying this rule for the last 2 years of my life and it gradually turned from hell to heaven and I mean it.
More about that in the book of course:)
I would like to ask you to sit down in a quiet space and self analyze your beliefs, write down few, look at them objectively and conclude whose opinions and beliefs are you living your life by?
Are they yours, or have you adopted them from someone?
Do you feel you are worthy of success?
Do you feel you are good enough, smart enough, slim enough?
Who sets the rules?
What is normal?
Look at this quote:
"Do not fear to be eccentric in opinion, for every opinion now accepted was once eccentric" Bertrand Russell.
Stop worrying if what you think or feel is different than the opinions or feelings of those around you, or in the media, or church or wherever, you have your own mind and heart to guide you, be courageous and stand up and distinguish yourself from average, I know your soul craves happiness, what stops you to live your dreams?
Remember you always have a choice to be, do, have whatever your heart desires and that is called a free will, it is your divine birth right, I hope you are using it to empower yourself in all aspects of your life! You are here to create yourself to the best image of your dreams, not destroy yourself or disrespect life, you are the unique expression of divine love and as such you are equipped in all that you need to succeed.
It is difficult to believe it sometimes I know, especially when you adopted the self limiting beliefs from those you love, just as I did from my parents, but…you can show them by creating a truly purpose driven life that whatever you believe in works and build a beautiful and inspirational life and who knows, they may even change their beliefs and you have made a huge difference in the community you live in.
That's it from me for today. I wish you a wonderful day and as always…
May Love and Light Be Always With You
Your Abundance Coach – I like my new title:)!
NataliaPH